Comments and feedback from customers who have bought a paddock vacuum cleaner from us.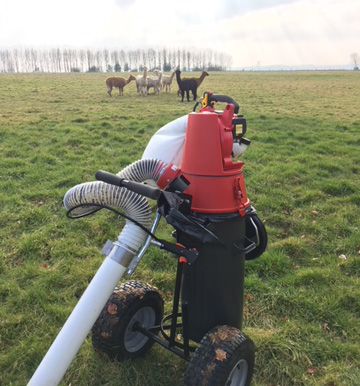 " Just thought you'd like to see your equipment in action!! All I can say is this has changed my life! I can pick up more in an hour than I used to collect in day by hand!! The alpacas were fascinated!! "
Regards, Julia
" My paddock vacuum arrived safe and sound this afternoon, thank you. I look forward to trying it out tomorrow. Great service! "
Carol Harris
" We have been using a paddock vac for about 5 years now - Paul Helps supplied it and has backed up the sale with excellent aftercare service. He always sorts us out for parts at the best prices. We don't use any chemical wormers now as our horses have been worm free for years due to the excellent job the 'poo-sucker' does. "
" It has to be the best invention since the dishwasher!! I had Monday and Tuesday off work to play with my new toy and now have squeaky clean paddocks. It is far better than I thought it would be and I am absolutely delighted with my new purchase. Will definitely recommend you and the vacuum to others. Many Thanks. "
" It is so nice to receive good old fashioned FIRST CLASS SERVICE. When I rang the other day after I had damaged the hitch on my paddock cleaner it was important to me that I had a serviceable cleaner as it is a must to keep things clean and tidy for the animals and prospective clients. I received the part I wanted the following day and back cleaning paddocks within 24 hours. The vacuum cleaner is brilliant and it is backed by excellent service. Thanks. "
" We have found Paul Helps to be ultra reliable, the paddock vacuum system he provided is fantastic and his standards of service and customer care are exemplary. "