We sell a full range of paddock cleaners with fast UK delivery, usually deliver in 2-3 working days.
All our paddock cleaners are manufactured in the UK and are one of the most popular vacuums in the marketplace.
Due to current market conditions, please ring us on 01278 555 222 for latest prices.
Each model performs the same job at the same rate, the only difference is the volume of the container. They are simple to operate and easy to start, the petrol engine creates a vacuum in the container to offer powerful suction through the 5" hose.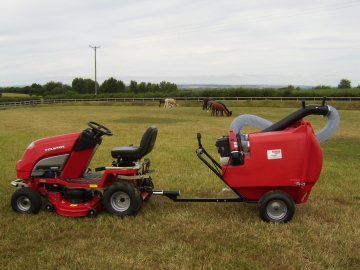 Our vacs come with a 2 year warranty, 5 years on the bin. They are reliable and easy to use with minimum maintenance, tried and tested over several years and have an excellent reputation.

The paddock cleaners we sell come with a Honda™ engine and are very easy to start. They are supplied with a strong and durable plastic bin so no rust and easy to empty. The 'Clean Fan' system is used where the vacuum is created in the bin so the muck does not go through any moving parts.
Models included in the range are handheld paddock cleaners, towable and also self propelled vacs.